Jane, the owner, is an amazing chef.  All of the meals are made with fresh ingredients and every meal has a wonderful dessert and cheese plate.  Here are only some of the gastronomical delights to experience. 
A dinner of homemade ravioli:
Jane and, her daughter, Hannah make the pasta for the ravioli.
Truly a work of art served on a very light homemade tomato sauce!
Fresh salads and veggies are abundant.
Starter of marinaded zucchini and tomato salad.
Sauted eggplant served over creme fraise with spices, all on a bed of freshly cooked chick peas.
Jane preparing Tian d'aubergines (baked eggplant on a bed of carmelized onions, stuffed with fresh cheese, red pepper and tomatoes).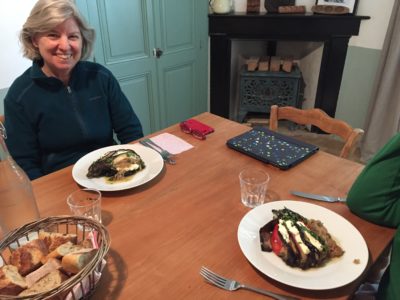 Everyone fell in love with this dish and Jane made it twice for us–once for lunch and once for dinner.  Below a homemade onion tart for lunch.
Lunch and dinner are always followed by a course of fresh local cheeses.
And, of course, the ratatouille!