After reuniting with friends, it's time to get painting.  I found a nice scene where I could be in the shade.  It is directly in Pont de Barret.
 I have painted this view before.  I am starting with a very small panel – 6″x 9″, so I can work out the greens.  I am experimenting with a very restricted palette of colors – 3 yellows, 2 reds and 2 blues.  I am mixing all my greens because the greens in France are very muted and I think I will have more success.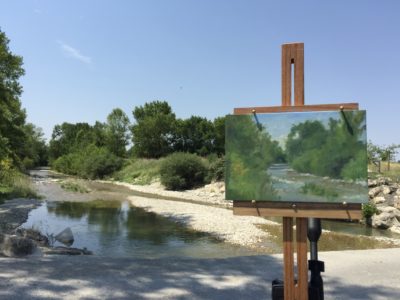 I took about about three visits to finish it.  I try not to get too detailed or perfectistic about the scene.  I don't want to overwork it and loose my initial impression.