2018 Painting Workshops in France with Judy Ryan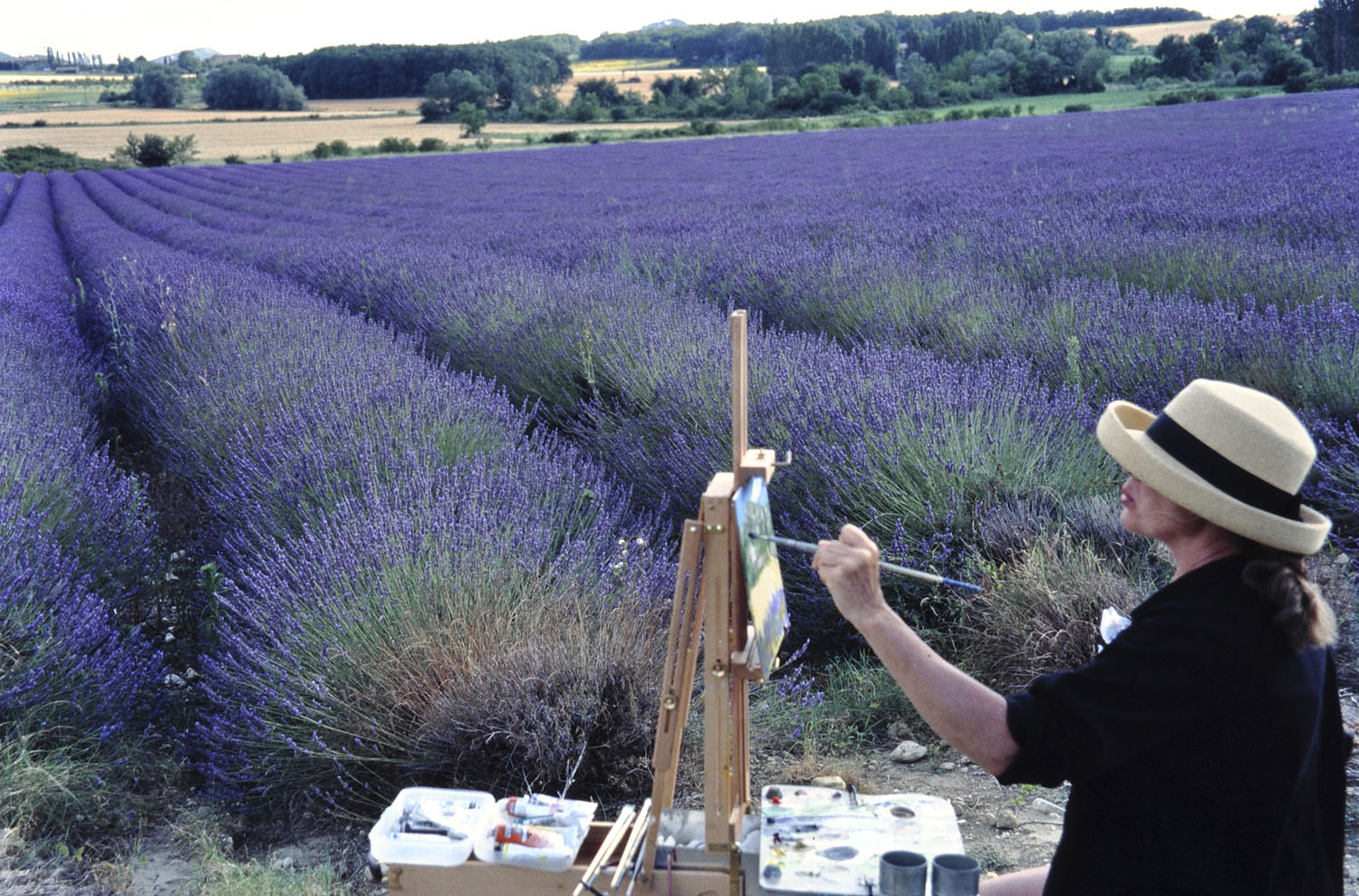 The extraordinary and legendary landscape of Provence, France will be the inspiration for these two 10-day plein air painting workshops with talented artist and inspiring teacher, Judy Ryan.  The painting sites will be in the beautiful and romantic Drome region of Provence — a rural farm area in France abundant with fields of lavender and sunflowers, quaint farm houses, medieval hill towns and romanesque stone bridges.
The principles of plein air painting will be discussed.  The emphasis will be on the simple interpretation of the landscape through the use of color, shape and light.   Individual attention is given to each participant — Judy will share some basic painting instruction, practical advice and tips for painting landscapes in general. The focus of the workshops will be in "representation" painting of the french landscape through the use of a limited (simplified) palette. Good drawing skills and some previous landscape painting experience are strongly recommended.  It is also important that participants be physically fit enough to be able to carry the painting gear, which include palette box, tripod, panels and folding chair and be able to walk short distances with the supplies.
Everyday there will be a selected destination to paint and sketch–but also allows you to take time to discover the area and the people.  Each workshop day provides two sessions of intensive painting time.  The format of one three-hour painting session in the morning and one three-hour session later in the day allows painters to experience the difference between crisp morning light compared to the golden light of late day.  This is a unique opportunity to paint the legendary light that inspired the French Impressionists.
At mid-day, there is a four hour break for relaxing with a glass of wine, enjoying a gourmet provencale meal and discussing the work of the day.  These plein air painting workshops in France offer an artistic experience which will inspire the beginner and challenge the most advanced painter.
Other activities include an excursion to an open air market, a couple of delicious provencale lunches at local cafes in enchanting hill towns and visits to some local French artists' studios.
To complete the rich and sensual experience, the workshops end with a farewell dinner at a beautiful local French restaurant.
I hope you will consider being a part of this richly rewarding and unforgettable opportunity.  Space is limited to seven participants, so early enrollment is advised.  Non-painting participants are welcome.
---
2018 WORKSHOPS:
   Please fill out the registration form for the workshop of your choice.  Do not submit a deposit until you are notified that you have a place in the workshop.
June 12th – June 22nd
June 26th – July 6th
Workshop Price:
US $2150 – singles (single room for 1 artist participant)
US $2950 – couples (single room for 1 artist participant and 1 non-artist participant)
US $3400 – artist couple (single room for 2 artist participants)
The Price Include:
Accommodations and meals
Use of painting equipment
Not included:  the cost of three meal excursions, airfare,  transportation and painting panels or canvas.
** CANCELLATION POLICY –  your deposit is refundable (minus an administration fee of $100) up to 60 days from payment.  THE  PRICE OF THE WORKSHOP is refundable before 30 days from receipt of payment or unless a replacement can be found to fill your space. 
FOR TRAVEL INSTRUCTIONS FOR THE WORKSHOP, PLEASE GO TO travel advice.
Quick Links:
Workshop Accommodations:
Our accommodations for the workshops are at a beautifully restored French farmhouse nestled in the unspoiled mountain town of Eyzahut in the Drome Provencal area of France.  Our hostess, Jane will warmly welcome us into her charming "Bed & Breakfast" home.   She is an excellent french chef and talented gardener.  The grounds are stunningly landscaped with roses and wisteria, including a fruit-bearing fig and cherry trees.
The rooms are tastefully furnished with white bed linens and lovely French antique furniture.  Each room displays an elegant armoire and has a private bath with large walk-in shower.  Your room will include fragrant french soap, fresh linens and towels and a hair dryer to use during your stay.
The price of accommodations includes all meals at the B & B.  Meals will be served with red, white and rose wine.
Painting Materials:
Painting equipment will be provided for use during the plein air workshops.   Equipment includes: a lightweight tripod with detachable palette, oil paint, brush cleaner container, paint thinner, palette cup, sun umbrella and folding chair.  The gear has been carefully planned for portability.  All the supplies will be carried by participants in an "over the shoulder" canvas tote.  Participants must be physically fit enough to carry the canvas tote and be able to walk short distances with it.
WHAT YOU NEED TO BRING:  Oil paint brushes,  a stand up brush carrier, sun hat  (visor or baseball cap), panels or canvas to paint on and a palette garage (for storing paint). I recommend a variety of small "natural" bristle brushes.  Bring your personal choice of flats, rounds or filberts.  I recommend Robert Simmons oil painting brushes and I like working with filbert brushes.
When decided what to bring to paint on, there are three possiblilities:  canvas boards, primed paper or primed canvas on a roll (taped to a board that you bring) or thin wooden panels.  I recommend bringing lightweight "birch" wooden panels.  They can be bought at a lumber store in sheets and then cut to size.  Sometimes they can be purchased at an art store or hardware store.  The panels should be primed.  You are free to work any size up to 16″ x 20″, as the easel set up, does not accommodate larger sizes.  When selecting panel sizes to bring, consider sizes that will allow you to finish in one or two painting sessions.  There is also a wonderful art store in Montelimar where you can purchase canvases, panels and canvas boards, although the stock is limited.